We live in a day and age where a large portion of our society spend so much time on their computers, laptops, mobile or smartphones, yet so many businesses are still spending small fortunes marketing their business via old and traditional methods – flyers, sales brochures, posters, billboards, radio, and television to name a few.  Are these marketing messages seen, heard and even processed?
Push marketing strategies
Whether your business is in a startup phase, or cash-strapped or functioning well and generating a great turnover, traditional marketing methods are, in most cases, very expensive and often an ineffective marketing method bringing little to no return on investment. This is mainly because traditional marketing is considered to be a "push marketing" tactic; meaning that products and services are promoted by "pushing" it in front of the audience.
The problem with push marketing tactics are:
 You may not have an audience interested in your offering;
 You may have to fight for the audience attention
 You can't tell if the audience is engaging with your marketing messages; and
  You will have difficulty measuring the effectiveness of your marketing messages.
A few examples of push marketing tactics include:
Direct sales – think about all those sales calls that you may be receiving; or face to face sales
Point of sale displays
Packaging design
Trade shows
Flyers, Brochures, Billboards, banners
Television, Radio
Pull marketing strategies
The alternative to push marketing is pull marketing strategies, which seeks to draw the audience attention and interest to your products or services, as and when they are ready and seeking your offering.  Within digital marketing, we refer to pull marketing as inbound marketing.  Pull marketing tactics depend largely on the internet and has more benefits, the main benefits include:
Being able to market your business to a targeted audience who would be interested in your offering;
Being able to measure performance and results; gather data and insights, which will help you improve your marketing efforts;
More cost effective than traditional marketing activities;
Increased opportunities to engage with your targeted audience through multiple channels.
The image below is from We are Social's latest report, which indicates the online activities that South Africans are engaging in, at least once a week.  As additional information, which only makes for a stronger case for pull marketing strategies; South Africa has a 54% internet penetration, which means that over 30 million of approximately 57 million South Africans have access to the internet.  Businesses who are slow to move into digital marketing are losing out on the opportunity to reach an ever-growing online audience, and businesses adopting digital marketing have a more affordable way to market their business and reach their targeted audience.
Digital marketing strategies
So let's get to the reason why you're reading this blog, what digital marketing strategies can you implement to take your business forward this year?  Let's have a look at a few broad strategies that will help to raise the visibility of your business and attract and convert your ideal customer.
1.  Mobile Visibility
The image above clearly shows that smartphone activities are far more popular than computer activities.  First things first – ensure that your website is responsive to mobile devices, including tablets and that the other strategies that you implement at a later stage respond well on mobile.
One other great mobile strategy is to register your business with Google my business which is essentially a free listing within Google maps that helps visitors find you in the location that they are searching for.  Studies show that users searching for businesses within Google maps have more serious intent to take a purchase action, making this a strategy that all businesses should implement especially to attract local clients.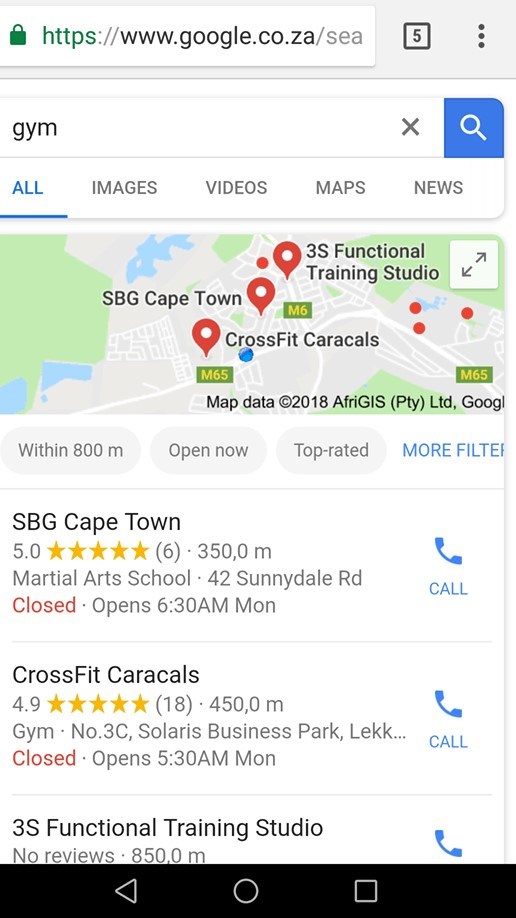 By far the activity that South Africans are engaging in the most is social media.  But before you jump onto every social media platform, consider your business and the number of resources (time and money) that is available to dedicate to social media marketing; also consider your ideal audience and where they are spending their time.  Be strategic about where you invest your time and money and why.  If your business is more B2B, LinkedIn may be the only platform that you need to invest in and if your business is more B2C, then Facebook and Instagram may be a better option for you.
Social media marketing is not as easy as it used to be, so be sure to put a strategy in place for how you plan to use social media to raise the visibility of your business, including the type of content and campaign activities that will actively produce.
Social media offers so many opportunities to engage with your ideal audience – through pages, groups, video, influence marketing and advertising campaigns.  Social media shouldn't be the only marketing strategy that your business implements as the on-going challenges would be to adapt to the frequent algorithm changes, monitoring the movement of your audience and whether they move from one platform to another, i.e. from Instagram to Snapchat as an example and learning how to use and market your business via new platforms that may quickly come and go.  Integrate social media into your broader digital marketing strategy for best results.
3.  Website
Many businesses think that social media has replaced the need for a website.  Within digital marketing, your website is at the centre of all digital marketing activities.  Your website is your constant in the midst of continuous change and you have full control over your website.
As can be seen from We Are Social's statistics above and below, 17% of South Africans search the internet on a weekly basis for answers to their questions and solutions to their challenges.  Internet search is still taking place outside of social media networks and within search engines mainly Google, therefore maintaining visibility within Google search results pages is a must. Points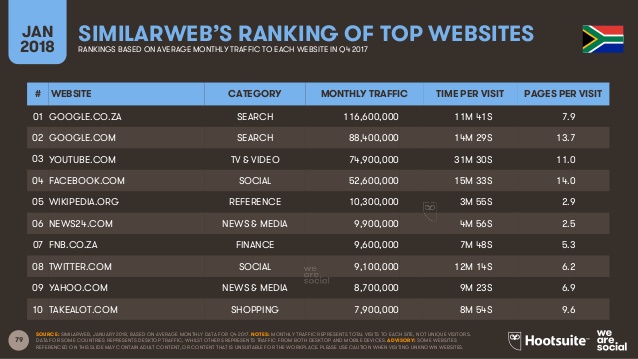 4.  Search engine optimization
Also known as SEO for short, search engine optimization is about helping your ideal customer find your business online.  Whilst this is a strategy which only sees results over the long-term (anywhere between 4 months to 12 months), the return on investment is high, making this one of the most affordable and profitable digital marketing strategies.  Essentially SEO is about optimizing your website so that you can rank your website on search results pages so that your ideal customer can find you.
SEO takes a number of factors into considerations such as your ideal audience and the keywords that are important to them; to your website build, structure, navigation and performance, domain authority, back-links and more.  Watch the video below which will give you more insight into how Google search works.
 5.  Content Marketing
Going hand-in-hand with SEO is content marketing.  Content marketing is simply information that is found online, in different formats, a few examples include video, blog posts, ebooks and reports that your ideal targeted audience will find online, be interested in and will engage in when searching online.  Content marketing ultimately seeks to answer your ideal audience questions or seeks to show them that your business provides the solution to their challenges.  Content marketing is an important factor for SEO as your content should be relevant to your ideal customer and be keyword driven.
The key to content marketing is truly understanding your target audience and producing relevant and high-value content that meets them on their journey to find their solution.
6.  Email marketing
Contrary to what many people will believe, email marketing is not dead and is, in fact, one of the most effective digital marketing strategies offering a good ROI.  Within South Africa, many people opt to receive marketing messages via email, and trust email for personal and business documents such as invoicing and reports.
With the frequent social media algorithm changes, your email list is an asset that you have full control over and able to communicate with an audience who is already aware of your business.  Build your email list using lead magnets, pop-up email capture forms on your website or specific social media campaigns for lead generation purposes.
MailChimp offers businesses the opportunity to send bulk email campaigns for free up to 2000 subscribers and offers reports that help you measure the effectiveness of your email campaigns.  Remember that only if your business is an online store to then lead with sale messages, otherwise lead with valuable information by focusing on your audience interests first and then find ways to introduce sales opportunities later.   It is also important to ensure that your email campaigns are responsive to mobile devices as many people access their emails from their mobile devices nowadays.
Over to you
There are many strategies that one can implement within the broad strategies above, and if you're a small business with limited resources, then it is overwhelming to try to implement all these strategies at once.  Our recommendation is to plan for the implementation of these strategies according to your goals and resources and to build and integrate these strategies over time.
Comment on this blog below and let us know which strategies you have implemented and seen good results with or advise which strategies you would like to learn more about.
Janine Wood is a digital marketing specialist and business owner-manager of Ignite Media. Her experience spans brand development and digital marketing roles including management and strategy. Janine helps clients create memorable brands, increase their online visibility and attract, engage and convert their ideal customers. Janine is passionate about entrepreneurship and empowering others.